Ecosarc Branding Project // 2018
Designed by Tori Green,
Z Lisenbee
, Isabelle Brown, & Ana Benitez


Branding
Rapid Prototyping
User Experience
Environmental Design
Illustration


Introduction
Ecosarc is the faculty led committee dedicated to sustainable practices at the Kansas City Art Institute (KCAI). Upon my team's initial collaboration with Ecosarc, our mission was to introduce reusability tactics and awareness materials to KCAI's community with the intention of moving closer to becoming a zero-waste campus. Zero-waste is the goal of sending nothing to the landfill or incinerator and is often referred to as the "No Bury, No Burn" strategy. This systematic approach to materials management includes discarding waste by means of recycling and composting, and my design team wanted to make this a standard at KCAI.

The main problem that arises when college campuses attempt to employ a zero-waste methodology is providing the community with knowledge of where recycling bins are located, and deciphering what can and cannot be recycled. After extensive research, our team decided the most efficient course of action to overcome these problems of application would be to brand the Ecosarc committee; producing a brand for Ecosarc was the highest­ impact solution that had the greatest possibility of longevity due to its potential ease of implementation across campus.

We visited two administration facilities and eight departments at KCAI and interviewed various community members on how to successfully incorporate the Ecosarc visual identity system in each facility. We discovered that every department required different forms of application, because the types of materials being recycled in every studio varied, and the space available for recycling bins was also diverse. It became apparent that the need for a highly customizable brand system was necessary to meet the needs of the various community members that reside on campus at KCAI.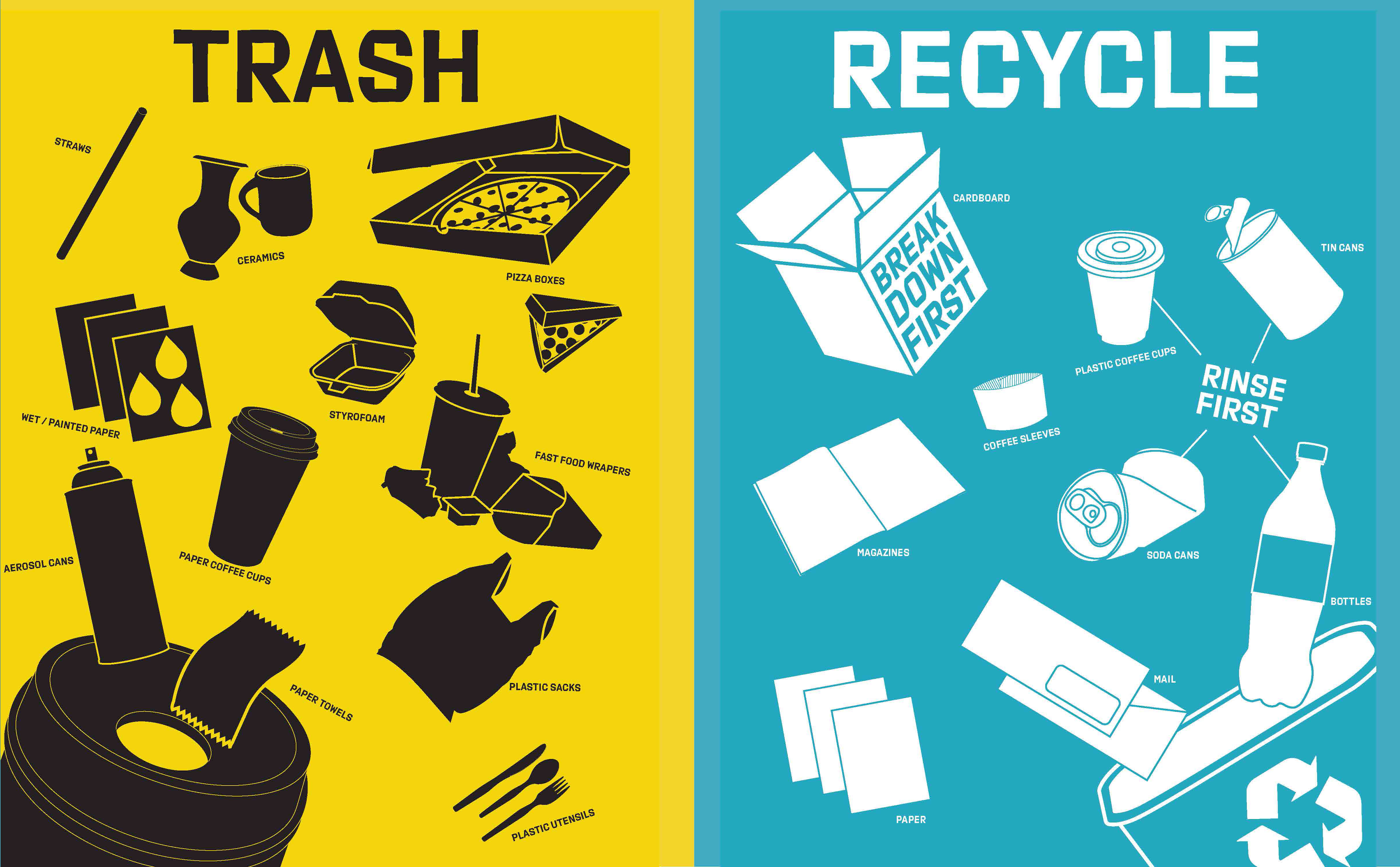 Brand Specifications
Determining the visual outcome of the Ecosarc visual identity system was primarily based on feedback received from Hector Casanova, one of the leaders and creators of Ecosarc. Hector specified what the Ecosarc visual identity should evoke from our audience, and the descriptors for Ecosarc include terms such as "sassy" and "eye-catching," ultimately countering the past ideology of eco-friendly pursuits being passé or a fad. After all, being environmentally conscious is cool, so platforming Ecosarc in this manner seemed lucrative and appropriate.

To further impede typical archetypes of environmentalist brands, we decided to avoid the convention of utilizing the color green, and instead opted for a blue and yellow color palette. This not only deviated from the stereotypical, but also allowed us to reuse materials already established across campus, such as the large, blue recycling containers available in every department. The standardization of the blue bins that span campus also reinforced our brand since community members already associated blue with recycling. To stay consistent with the notion of bold visual language, and for the sake of legibility, we chose a sans-serif type palette in which the typeface Export is primarily employed. These color and typographic combinations are interwoven with graphic icons to assist our audience with deciphering recyclable materials quickly.



Conclusion
At the closing of this project, we offered a flash drive to each department with all of the vinyl, posters, and color codes so that every department can apply the Ecosarc brand at their leisure. We designed the package so that every studio would be able to decide the necessary assets needed based on the type of waste being disposed. The bin configuration is also tailored to each department, and we have provided a chart that showcases examples of the most minimal bin configuration to the most complex. Finally, we created a price sheet that lays out the cost of assimilating the Ecosarc brand applications. We hope that these small shifts will lead to major changes within the KCAI campus and will help individuals in our community to adopt a more environmentally conscious lifestyle.